The power of voter registration 
Voter registration programs expand the electorate, ensuring no voter is left behind. Without active voter registration campaigns, millions of Americans would be left out of the civic process. Every registered voter can shape their government and help make it look like the communities they serve. When someone registers to vote and casts a ballot, they are making a bet on who they want to represent their values and beliefs. 
However, anti-democratic forces have worked with surgical precision to pass a range of state laws deliberately designed to make registering to vote and voting harder for certain Americans — primarily low-income people, young people, and people of color, the "New American Majority." 
While anti-democracy forces seek to suppress voter turnout and challenge our rights, we have the tools to fight back and win. We can make a real impact on progressive turnout and election results when we invest in voter registration. Whether it's nonprofits, candidates, or party committees registering voters, the lift and influence on elections is significant. 
As Democrats and progressives, we care about a fair and inclusive democracy. When we invest in voter registration, we are aligning our resources with our values.
We run voter registration campaigns to win elections today and in the future. Election cycles in recent years have shown the power and impact of organizing everywhere. States and districts that many had written off as too red or conservative have shown us the power of voter registration and turnout. (Hello, Georgia!). In many districts and states, there are not enough registered voters on the rolls for Democrats to win, which is a big challenge. We need to expand the electorate — with a focus on the New American Majority — to take back the U.S. House, hold the U.S. Senate and Presidency, take back state legislatures, and elect mayors and local elected officials that have the same values as the communities they represent. We can build a long-term framework for progressive turnout by creating new, lifelong, habitual voters through voter registration. 
The 2024 elections are more than a year away. Why should I care about voter registration now?
If you have an election in 2023, start now! Registering voters during the summer is a great way to talk to potential voters without asking them for money or their vote.
If you have an election in 2024, you can get a jump start on identifying and talking with potential primary and general election voters. 
The advantages of starting voter registration early
Running a voter registration program 12-18 months before an election positively affects registration and turnout rates. 
More time to communicate with voters. Federal primaries are moving closer to the beginning of 2024, and candidates are announcing candidacies earlier and earlier, which aligns with an early voter registration program. Whether you are a candidate, a local party, or an advocacy group, the sooner you can register a potential voter and start communicating with them, the better. Instead of contacting a voter in the chaotic weeks before an election, start the dialogue with them months or a year in advance to help understand the issues that matter to them and make them feel engaged, which boosts enthusiasm and voter turnout. Planning ahead also gives your organization the time to map out audiences who will benefit most from these programs, especially groups typically underrepresented in voter turnout.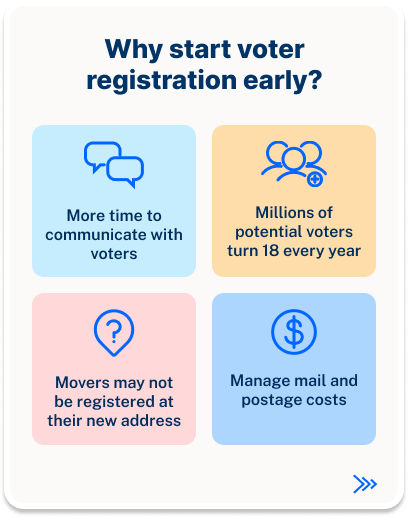 Millions of potential voters turn 18 every year. On average, almost four million people turn 18 each year, which averages out to more than 10,000 per day. In some states, people can register to vote before their 18th birthday. We all know that Gen Z is a powerhouse group that is already primed to vote for progressives and Democrats, but we need to make an effort to erase the barriers to registering and encourage young people to vote. Rather than waiting until the months before November 2024, let's reach out to young people as soon as they are eligible to register.

Movers may not be registered at their new address. Reaching out to people who have moved since the last election is one of the easiest ways to find potentially unregistered voters. Approximately 40 million people move each year, about 13% of the population, and it's a group of people who could make the difference in many close elections. While some states and localities have processes to help movers re-register, the rules vary across states, and many people forget to re-register after moving. 

Manage mail and postage costs. The earlier you start and lock in rates, the easier it is to plan budgets, plus you will likely save money! Vendors have more room for discounts with organizations that lock in pricing earlier in the cycle.
Unlock the power of mail-based voter registration. Set up time with our partnerships team today >>
Aren't nonprofit organizations handling voter registration?
This is a common misconception. There are incredible nonprofit organizations running voter registration campaigns. However, we all have a responsibility to expand the electorate, bring more Democrats into the fold, win more elections, and enact a progressive agenda that helps all people.
Why we should ALL take responsibility for registering voters: 
Limited budgets for voter registration. Nonprofits can only do so much, and budgets only stretch so far. Candidates, party committees, and PACs also need to chip in to help the progressive ecosystem as a whole. With the current efforts, millions of voters are left out of the system every year.

Nonprofits cast a wide net. Most nonprofit groups have a nonpartisan focus and can't be as targeted as political organizations. Voter registration efforts that focus on people with specific partisan scores can help the progressive and Democratic ecosystem win by registering people who are aligned with our beliefs.

Democrats are at a disadvantage with voter registration rates. We know that Republicans have registered voters in greater numbers than Democrats since 2020, and more than 1 million voters switched from the Democratic to Republican parties in 2022. Democrats have the data and opportunity to communicate with potential voters, and we need to get folks registered. 
How to run a voter registration campaign through the mail
Voter registration by mail is the easiest and most cost-effective way to register new voters. While expanding the electorate might seem intimidating to tackle, we've found that voter registration by mail is more efficient and affordable than traditional voter registration methods. Before we get into the details of how to conduct voter registration by mail, we want to address common objections to this process. 
Why can't I just register voters at events and high-trafficked areas?
Anyone who's done organizing knows the well-worn strategy of setting up a table at a grocery store or standing with clipboards at a community event to register voters. While going to high-trafficked areas can definitely increase the chance of finding an unregistered voter, it's also incredibly inefficient and not targeted. Here's why we recommend coupling your in-person strategy with targeted mail programs: 
Time intensive with low return: While certain events or locations are better for finding unregistered voters, an organizer at a grocery store could come back with only a handful of registration forms. The same organizer could be doing other in-person or phone organizing and reach many more people in the same time frame. 

Registering voters who are already registered. Many people don't realize they are already registered, so you re-register people already on the voter rolls.

Registering people who don't live in your target area or state. This issue is a significant problem in states with a small geographic footprint, cities that border two or more states, or for local races that need to register voters in a particular precinct or district. While you might end your day registering a group of voters, they might not live in your target district or state, which is excellent for overall voter participation, but might not align with the goals of your campaign or organization. 

Registering voters who aren't aligned with your candidate or party. When you cast a wide net with voter registration, you might end up registering voters who will not vote for your candidate or political party or support your issues. It's not ideal to invest time and resources to register voters opposed to your values. 
Why registering voters by mail is a better process
Your time investment goes further. You can spend a few hours of work to create a mailer and send a mailer that will reach hundreds or thousands more people than the grocery store model. Plus, mailers target people who are potentially unregistered, and you aren't wasting your time registering voters already on the rolls. 

Targeting the right potential voters based on partisan scoring and other data analysis. Using data to target your mail campaign, you can find the voters in the precinct, district, city, county, or state you're focused on. Plus, you can use data analysis and modeling to predict the partisanship or issue score to align with your party, candidate, or overall values. 
Unlocking the power of mail-based voter registration: a step-by-step process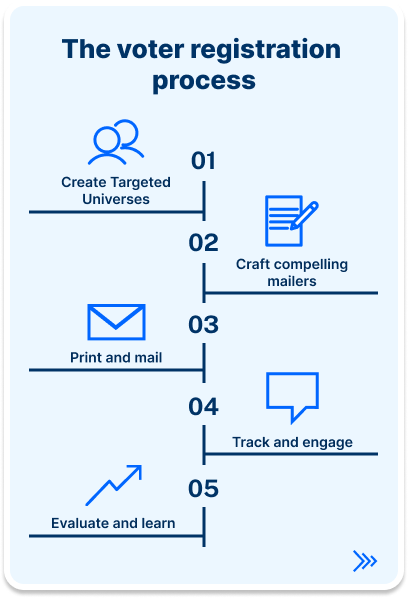 At Civitech, we have a proven track record of managing voter registration campaigns for millions of potential voters. Through our experience, we have honed our strategies, identifying what works effectively and what doesn't. One method that has consistently yielded exceptional results is mail-based voter registration efforts. These efforts can be the deciding factor in winning or losing a close election. That's why we strongly encourage everyone to consider complementing their existing on-site or door-to-door methods with mail-based voter registration campaigns. Our team at Civitech is here to help tailor such campaigns to fit your budget, ensuring a seamless and impactful voter registration process.
To embark on a successful mail-based voter registration campaign, we recommend following these six steps:
Establish clear goals: Collaborate with the Civitech team to define your goals, understand your potential voter base, and determine the size of your target universe. For campaign organizers, this may involve analyzing the electorate and identifying the number of votes needed for victory. On the other hand, non-profit organizations can focus on specific geographic areas or constituencies, gaining insights into the unregistered population to set achievable goals.
Create targeted universes: Working hand-in-hand with you, we will identify the individuals you are eager to engage with. These target universes typically fall into three categories:

Movers: These individuals were active voters at their previous address but have since moved without updating their voter registration. Approaching this group proves fruitful, as they have already developed the habit of voting—it's just a matter of ensuring they don't face any complications when casting their ballot at their new address.
Aging into the electorate: This category encompasses individuals about to turn 18 and become eligible to vote for the first time. By understanding the voter registration laws in your state and determining when this age group can officially register, you can effectively capture their attention and participation. In many states, individuals as young as 17 can register to vote as long as they turn 18 before election day.
Unregistered voting age population:

These individuals are eligible to vote but have never registered, often due to various reasons. Identifying and understanding this population can be challenging, but at Civitech, we employ a team of researchers who actively collect data from universities, community colleges, schools, and government entities to locate these individuals. Our team then standardizes and incorporates this data into our proprietary database, which has shown remarkable success in previous campaigns.

Craft compelling mailers: Once you identify your goals and target audiences, we collaborate with you to create impactful mailer inserts. Our expertise ensures that we incorporate industry standards and tested best practices into your efforts. The elements could include social pressure elements, expressing urgency, highlighting the simplicity of the registration process, and even pre-filling accompanying forms. Additionally, the mailers can feature candidate photos, campaign logos, submission deadlines, relevant iconography, and more. We provide guidance and handle all design work, ensuring your mailers make a lasting impression.
Print and mail:

After the mailer elements are designed and approved, we move on to the print phase. We meticulously package the data with trackable barcodes, inserts, and forms and send them to the print house. Our close collaboration with the print shop ensures our rigorous quality standards are met. Once all materials are printed, they are promptly mailed or drop-shipped to the relevant addresses.

Track and engage: Our comprehensive mail dashboard allows you to track every piece of mail throughout the entire process, from sending to delivery. This transparency enables you to monitor the journey of each individual envelope until it reaches its destination. Upon delivery confirmation, we take it a step further by sending a text message to the recipient, ensuring they have seen the mail and offering assistance with form completion if needed. Our research has shown that engaging recipients through multiple channels significantly enhances the effectiveness of our efforts. We also encourage you to incorporate the data into your existing outreach strategies, such as phone banks or canvassing, for further impact.

In addition to tracking delivery, we can monitor application returns. While the preliminary data from returns may not be as comprehensive as delivery data, it provides valuable insights to assess the effectiveness of your campaign.

Evaluate and learn:

Assessing and reflecting on the results of your campaign is crucial for continuous improvement. The most accurate method to determine if someone has successfully registered is to check the voter registration lists after the election. However, it's important to note that many states take months to update these lists. Thus, conducting a final analysis can take up to nine months.
Expanding the electorate requires strategic and creative thinking. By partnering with Civitech, you can simplify and streamline the process, making it stress-free and effective. We believe in the importance of smart targeting, employing multiple tactics, and maintaining persistence to drive results.
Tips for maximizing the impact of a mail-based voter registration campaign
Give yourself plenty of time for the voter registration campaign. The best time to begin planning a voter registration campaign through the mail is at least three months before the registration deadline.
Based on our mail campaigns and using randomized control trials, we've found that registration peaks 15-20 days after a mailing, with most of the registrations happening within two months. You also want to account for at least two to three weeks before mailing for planning, design, review, and printing. So if your state has a registration deadline in the first week of October, you ideally want to start planning your mail program the first week of July.
It is vital to run programs early to account for the time it takes folks to submit voter registration forms. If you start earlier, you can also create additional touchpoints and opportunities for conversation with your new voters. If you start a voter registration program 9 to 12 months before the general election, it gives you the space to talk to voters during all the phases of a campaign, including during the introductory phase, the primary, persuasion, mobilization, and GOTV.
In the beginning, think about the entire registration and turnout process. Often more than one mailer is needed to overcome the forces of voter suppression, which is why we recommend utilizing additional methods to follow up with voters. If you plan at the beginning and focus on a multi-channel approach, you have more time to engage with potential voters before Election Day. Follow-up tactics you could use include texting everyone who receives a mailer encouraging them to register, sending a follow-up postcard to anyone who hasn't registered yet with additional information on how to register online or in person, or texting the people who registered during GOTV with voting reminders.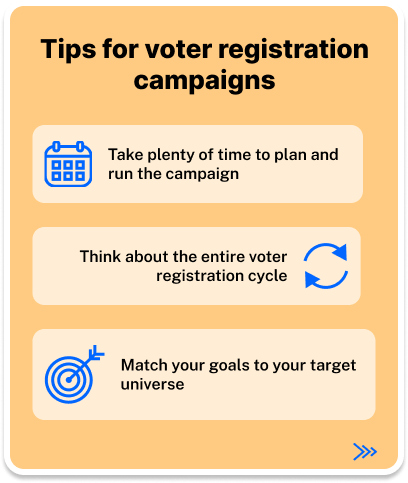 Match your goals and expectations based on the target universe. Some unregistered voters will be easier to reach and convince, while others might require more follow-up and persuasion. Think about this while you are setting up your goals and tactics. A previously registered voter who moved and forgot to re-register may require one mailer. However, someone who's never voted before might need a follow-up phone call or text or might benefit from having a canvasser stop by their home to register. The cost will be higher for a never registered voter, but that person will likely be a long-time voter who might not have registered and voted otherwise without your efforts. Your program could help usher in a new generation of voters in your community who would not have engaged otherwise. 
Success story: How voter registration mail helped win a 2022 state house race
In 2022, a Democratic incumbent and state house member was running for re-election. Though the candidate had won their previous two elections, redistricting had created a new district that was favored for Republicans.
Looking to hit their win number, the candidate was interested in expanding the electorate in their district, as they first won the seat in 2018 in a district previously held by a Republican for many cycles.
The state house district had a fairly even partisan split, and the candidate had only won by a few hundred votes in their first election. The candidate wanted to identify and register new Democrats in the district. 
The house district candidate worked with Civitech to create a voter registration program through the mail that included a follow-up reminder via text to help increase return rates. 
Results
Even with a modest budget, we contacted nearly 2,000 unregistered potential voters in the district and registered 271. Of those newly registered voters, almost 60% voted, and the candidate won by just shy of 400 votes! The newly registered people who voted comprised nearly 40% of the win differential between the candidate and their opponent.
The voter registration program expanded the electorate in the district and helped re-elect a Democrat in a competitive district.